ACADEMICS
Green Lake School
is the first 4K-12 IB World School in the State of Wisconsin, offering the Primary Years Programme (grades 4K-6), the Middle Years Programme (grades 7-10), and the Diploma Programme (grades 11-12). Concepts of citizenship, social justice, and the interdependency of world humanity permeate every subject, equipping children and young people for life in a global society. The International Baccalaureate (IB) Programme offers high quality
coursework
that enhances its students' international perspective on today's world.
---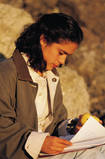 The IB Diploma Programme
(DP) is an elective, demanding two-year curriculum that meets the needs of highly motivated students, and leads to a qualification that is recognized by leading national and international universities. International exchange students in the Green Lake International Student Program may take individual IB courses leading to IB certificates, enroll in a first-year full IB Diploma Programme, or continue as a second year student in an IB Diploma Programme begun in their home country.
---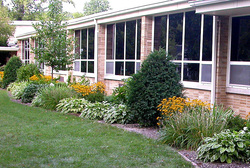 Students attend school 8:00 a.m. – 3:15 p.m., Monday through Friday, on an eight-period a day schedule. First through seventh hours run 45 minutes with a 30 minute lunch period from 12:00 – 12:30. Eighth hour is an advisory hour that runs for 24 minutes where students receive additional instruction or have time to meet with teachers for extra support. All international students will take a balanced schedule of courses (English, math, science, social studies, foreign language and electives such as physical education, music, technology education, or online courses offered by the school). International students may take both breakfast and lunch at the school on all school days.
---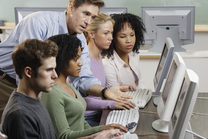 Eighty-five percent of Green Lake High School graduates attend many of the finest colleges in the state, country and internationally. Students in the Green Lake International Student Program will have access to the same college advising opportunities and will be encouraged to participate in college entrance examinations (ACT/SAT/TOEFL) if they wish.

---
In addition to the academic courses, Green Lake High School offers the following athletic opportunities: Boys: Baseball, Basketball, Cross Country, Football, Golf, and Track; Girls: Cross Country, Basketball, Golf, Softball, and Volleyball. Most international F1 and J1 visa students applying through CSIET approved agencies are permitted to play competitively in the Wisconsin Interscholastic Athletic Association (WIAA). Most of our international students compete on one or more of our athletic teams.
---

Other extra-curricular opportunities may include Forensics (English, French, Spanish), French and Spanish Club, the All School Musical or Play, Jazz Band, Solo & Ensemble, National Honor Society, French and Spanish Honor Societies, and Student Council. These activities may occur during the school day, before and after school, in the evening or on weekends. International students are encouraged to become involved in as many extra-curricular activities as they can handle.
---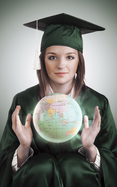 International students may graduate from Green Lake High School
and receive a high school diploma if they meet all requirements. Download the Graduation Requirements for more information.
Students interested in earning an International Baccalaureate Diploma
must meet all requirements as set forth by the
International Baccalaureate Organization (IBO)
. This includes two years of specific coursework, TOK, Extended Essay, and CAS.
International students may enter IB Diploma Programme
as a 1st year student in their home country and complete all 2nd year requirements at Green Lake High School, OR they may enter the program as a 1st year student at Green Lake High School and complete all 2nd year requirements in their home country. Another alternative is for a student to complete the entire two year IB Diploma Programme at Green Lake High School, entering under a J1 Visa the first year and returning under an F1 Visa the second year.
Colleges/Universities Green Lake Graduates Attend . . . to name a few!
---
American University
Amherst College
Arizona State University
Augustana College
Beloit College
Carleton College
Colorado College
Columbia University
Duke University
Fordham University
Grinnell College
Gustavus Adolphus College
Hope College
Lawrence University
Loyola University
Luther College
Macalester College
Marquette University
Michigan State University
Michigan Technological University
Middlebury College
Mount Holyoke College
Northeastern University
Northwestern University
Purdue University



Queens University
Rensselaer Polytechnic Institute
Rice University
Ripon College
Rose-Hulman Institute of Technology
St. Louis University – Madrid
St. Olaf College
Stanford University
The Citadel
The United States Military Academy
Trinity College
Tufts University
University of Arizona
University of Chicago
University of Colorado - Boulder
University of Denver
University of Iowa
University of North Carolina – Chapel Hill
University of Michigan
University of Minnesota – Twin Cities
University of South Carolina
University of Texas at Austin
University of Toronto
University of Wisconsin - Madison
Valparaiso University